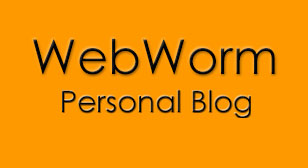 The WebWorm Personal Blog Plan is for the individual who wants to start a blog about themselves , hobby or subject of interest, whether it be photography, cooking, hunting, or any subject that you are passionate about and enjoy writing about.
With the WebWorm Personal Blog plan we will set up your website from start to finish including procuring the domain name if needed and building the custom layout of the site as well as color schemes , header images , widgets and plugins and Search Engine Optimization settings and keywords.
We will maintain the site , back it up on a regular basis , initiate updates for all the platforms , including WordPress updates , theme updates, and plugins.
Once the site is set up to your satisfaction , we will give you access to the back end so that you can add content, we can provide a one hour overview ( over the phone or via a remote access session ) on how to use the admin section if you are not familiar with it.
The WebWorm Personal Blog plan also includes email support for questions regarding WordPress, Plugins, Widgets and other related topics, we will also install new plugins or widgets upon request as you continue to build your site.
WebWorm Personal Blog $30 Per month , Click on PayPal link below to get started !