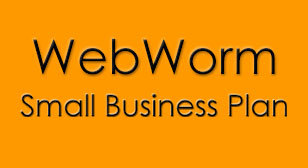 The WebWorm Small Business Plan is designed to give you an affordable website that will give you exposure and a better web presence for you business , so that you can take advantage of the organic traffic for your local niche market.
What most people don't understand is that in small localized markets , it's easier to get your website ranking well in the search engines for various search terms that relate to your companies products and services.
It's not about fancy graphics or tricky ways to fool the search engines,it's about building a solid , well laid out website that the search engines will rank well, its about good original content that is both informative, relevant and utilizes key search terms and words that will aide in giving your website good Search Engine exposure.
Don't be fooled by the companies that claim to be able to get your site on the first page of Goggle in just a few weeks, it does takes time when you do it right , but if done correctly with hard work and integrity it will greatly enhance your exposure on the internet and give potential customers a place to learn about your goods or services, as well as generate leads and bring in business.
Here at WebWorm we have years of experience building WordPress Based websites that will , over time enhance your  web presence and allow your potential customers to find you while they are searching on the internet in your town or community.
WordPress is a very stable well supported platform and has an easy to use back end for users who want to learn or have experience in adding their own content , all though we can provide that service as well if you choose .
We understand the economy is tough right now , and money is tight so we created the Small Business Plan as an affordable way to get you started on the process of building your web presence , and you don't have to pay a big  up front fee for the website like most developers require.
You can spread it out over a period 12 months. During this period we will work on the site as you pay a monthly fee, which includes not only setting up and building your website, it also includes hosting, backups, and updates that are needed.

Below is an overview of how the WebWorm Small Business Plan is structured and what is included:
Pay As You Go $100 per month  For 12 Months , total cost of site $1200 ( You must have a domain for your site,  if you do not already have one see addition service for domain name procurement $25 per year )
* Includes Hosting On our Server for the first 12 months , after the initial 12 month period basic hosting and support is $12 per month. (Includes continuing to post to the blog portion of your website when "you" provide WebWorm with the Images and written content , we also provide  backups , and updates to the WordPress Platform, WP Themes and Plugins. )
* Includes Installing the WordPress platform on our server , and the installation of any needed  Themes, Plugins or Widgets that we decide to implement during the development of your site.
* Includes a customized Header including text for your site using any graphic image we choose that relates to your business.(Custom Logo is available for an additional fee see additional services. )
* Includes Search Engine Optimization tuning by using keywords for your niche market in the content pages, the meta tags and in some cases the domain name itself .
* Includes 12 Original Static Content Site Pages related to your niche and business to be completed by our staff  within the 12 month period after activation!  ( The first 6 Original Content Pages for your site related to your niche and business will be completed Within 90 Days of activation! Another 3 pages within the next 90 days and an additional 3 pages before the 12 month time period is up for a total of 12 pages of content. )
* Includes a Blog that we can update for you as you provide content , for examples , sales , new products or promotions ,or any news relating to your business,   simply email us the verbiage/content/images/and we will post it for you , this also creates additional relevant content and is highly encouraged, as more content is always better .
* Includes a Monthly Back up of your website both at the data center and offsite so that your investment is secure.
* Includes links to your Face Book , YouTube and Twitter Pages , so you can tap into the Social Networking Phenomenon! ( If you do not have any social networking  pages set up , we can handle that as well see additional services )
* Set Up Google Page to increase exposure in your local and global niche markets
* Includes up to 4 email accounts that we create on our side  under your account and provide passwords, if you need help setting it up in outlook on your home or business computers , we can provide that service as well , see additional services.